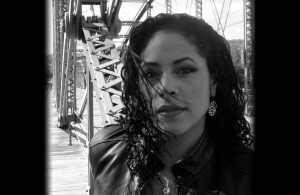 AYANA DEL VALLE is a dynamic vocal performance artist whose soulful voice and sparkling personality have delighted listeners throughout the US and Caribbean. Rooted in the Latin music of her upbringing, trained in traditional jazz, and influenced by the contemporary sounds of pop dance music, Ayana D is often described as the "Latina Alicia Keys," for similarities such as vocal range and quality, composing/arranging skills, and extensive musical training. You can hear this in her music as she sings in Spanish and English, and uses various Latin grooves, instruments, harmonies and improvisation.
While earning her Jazz Performance degree at the Conservatory of Music at Purchase College, Ayana also became a fixture on the New York City music scene, performing at Carnegie Hall, The Blue Note Jazz Club, Smoke, Cleopatra's Needle, and many others. She was invited to work with artists such as John Faddis, and Latin Jazz legend Hilton Ruiz, who hired Del Valle to perform with him in their native Puerto Rico.
Ayana performs regularly at various venues and festivals, including a long-standing monthly residency with EneRJee Jazz Trio at Lost Dog Café in Binghamton, NY. Her latest project, "Xpresso Love," is an inspired and passionate collaboration with Pianist/Vocalist Laurence Elder, spanning multiple genres and including a wide repertoire of originals and covers. They perform regularly at festivals and concerts, and are working toward the eagerly anticipated release of their debut album.